Now Playing:
Chicken Run
on Windows Media Player

So, I've found a new something to love...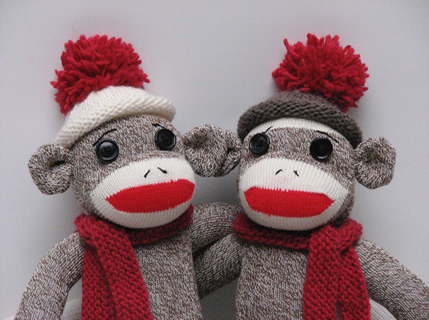 SOCK MONKEYS!!!

I made this sock monkey a couple years ago for my cousin Peachy's birthday. It was really fun.

I've also come across a flickr account of a girl who makes sock monkeys with knit sweaters and they are so adorable and inspiring!



Here's a screen shot of her flickr page. You can visit it here. Her Etsy shop for these monkeys can be found here.

She even makes baby sock monkeys!!! Out of baby socks!!! Oh! For cryin' out loud! What a cute idea! I'll definitely have to try that! Baby Claudia is my favorite!

And speaking of babies...



Here I am at 16 weeks.

I haven't quite "popped" yet. I'm really anxious to look more pregnant and less chubby. But, I'm sure that the baby is pushing out my already fluffy belly as my OB pointed out where the top of my uterus is and it's almost to my belly button. The baby pokes out more when I wake up in the morning.

We get another ultrasound to check the baby's development and find out the gender late this month!



Totally off topic, but this is why hubby calls me the Sammich Queen. Turkey with all the fixins. Lettuce, tomato, cheese, mayo and mustard... and don't forget the pickle on the side! This sandwich was delicious and so beautiful that I just had to take a picture before eating it!

In needlework news...

I'm still working on my sister's baby's purple and blue ripple blanket. I'm also writing a pattern for this...



Can you guess what it is?

Until next time!